Both my wife and I came from the beautiful twin-island republic of Trinidad and Tobago, the most southerly gem in the necklace of beautiful Caribbean islands that dot the Caribbean Sea. We came to The United States of America and like most Naturalized Citizens came with the intense desire to give our family better opportunities. Our past is a humble one; nevertheless, we knew with perseverance and hard work we would be ready for the challenge.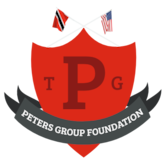 It's now been two decades and with what we have be given by this country we feel fortunate and blessed to now return to aid and assist others towards their dreams. We are concerned for the environment and strongly feel that we ought to take every means to help preserve it.
It's About The Future, Not the Past
We are tempted to dwell on the past, for us the past gives an opportunity to reflect and learn from and build on for a successful present and brighter future. This is what we did a few years ago when we rebranded our business operation to the The Peters Group LLC. So far this is our main funding source. Together with our daughters one doing her medical residency as a OBGYN and another at her junior year in college we are here to make a difference.
501(c)(3) Approved Nonprofit Organization
We are an approved 501(c)(3) organization (EIN: 88-3311004) with the Internal Revenue Service (IRS) for approval as a tax-exempt, charitable organization. Donations are tax-deductible, per IRS regulations.