Partnering to Support Our Community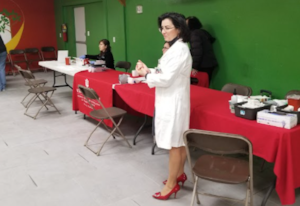 Our daughter, a new graduate of the Indiana University Medical School, mentioned that it would be a welcome and worthy effort to involve the school in the effort to reach the homeless. It was a no brainer to us and so we invited the students to come along with a lecturer. On the day in question a clinic was set up which did medical check ups for the homeless some two hundred in attendance. They were able to see what their medical situation was like and what was needed to alleviate or tend to it. In addition, feminine products were given out as well as toiletries, and other much needed personal care products. Articles of clothing were given out as well and a hot meal was served.
The medical lecturer then gave a brief presentation on health issues that are necessary to be taken seriously and how to find care to take care of them. An attempt was made to make urgent care possible for those needing it immediately. The effort was well worth it.